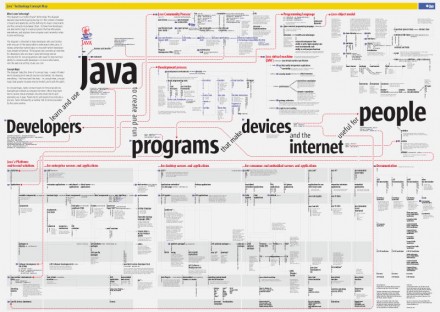 *Created in collaboration with Audrey Crane, Jim Faris, and Harry Saddler.*
This diagram explains Java by placing it in the context of related concepts and examples, and by defining its major components and other connections between them.
The diagram is intended to help developers who are familiar with one part of Java understand other parts. It relates unfamiliar technologies to ones with which developers may already be familiar. The diagram also provides an overview for developers who are new to Java and an introduction for non-programmers who want to improve their ability to converse with developers.
The completed map contains approximately 235 terms, 425 relationships, and 100 descriptions.
We also created a Flash version of the map.
Read the article [Using Concept Maps in Product Development: Preparing to Redesign java.sun.com][1].
[1]: http://www.dubberly.com/articles/using-concept-maps-in-product-development.html "Using Concept Maps in Product Development: Preparing to Redesign java.sun.com"